Central Ballarat Venue Hire
Auditorium, Hall and Registered Kitchen available for hire for events and activities. The property is a unique heritage-listed building located in central Ballarat.
Available for casual and recurring bookings.
The facilities available are:
Registered Commercial Kitchen
Auditorium seating up to 120 people, with AV and sound equipment.
Hall with seating, tables and coffee station. The cafe is available, as well as a trained barista at award rates.
Please read the terms and conditions and fill in the Application Form below. If food is being served at a function or event, the food safety details must be completed. Remember to sign the Declaration.
We will review the application and confirm if your booking is accepted. Due to the nature of the venue and other usages, Hilltop.Church reserves the right to refuse an application.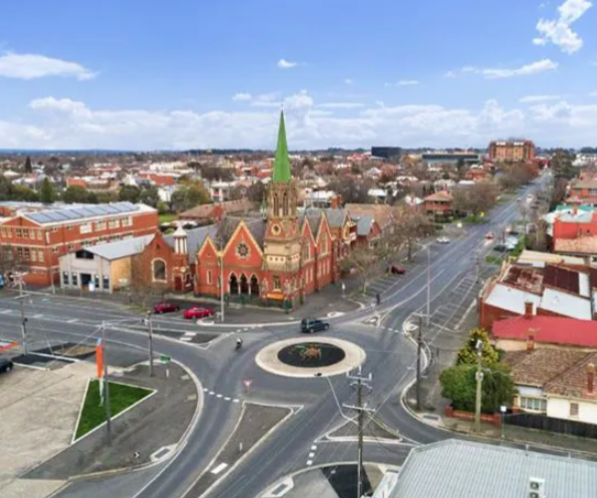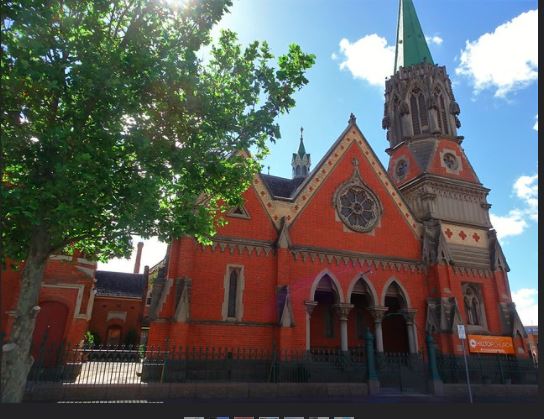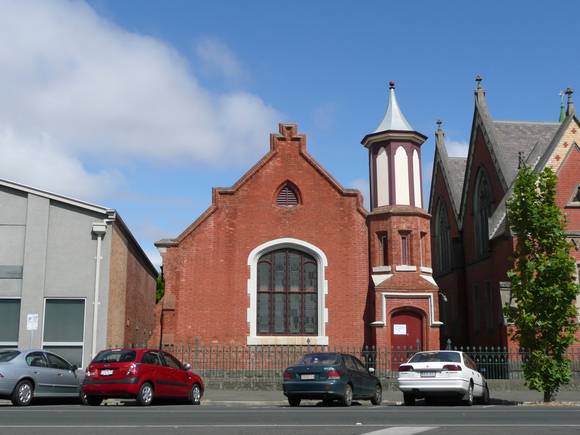 Full Hourly Rate
$46.75
Full access to kitchen and its equipment
After Hours Rate
Full access to kitchen and its equipment
NotforProfit Hourly rate
Full access to kitchen and its equipment
Large hall. Access from the main road. Street parking,
Can be partitioned off into smaller areas.
Great for class settings
Heating and Aircon
Easy access to toilet facilities
A children's play area with gates is available at no extra cost. Children's size tables and chairs are available for a small hire fee.
Commercial Cafe is available for additional hire, you will need a trained barista to operate the area.
Room Size:
Equipment available:
Cafe chairs x  and tables x
Partitions and Whiteboard
3 seater and 2 seater Black Sofas
Plastic trestles x
Wooden trestles x
padded seats x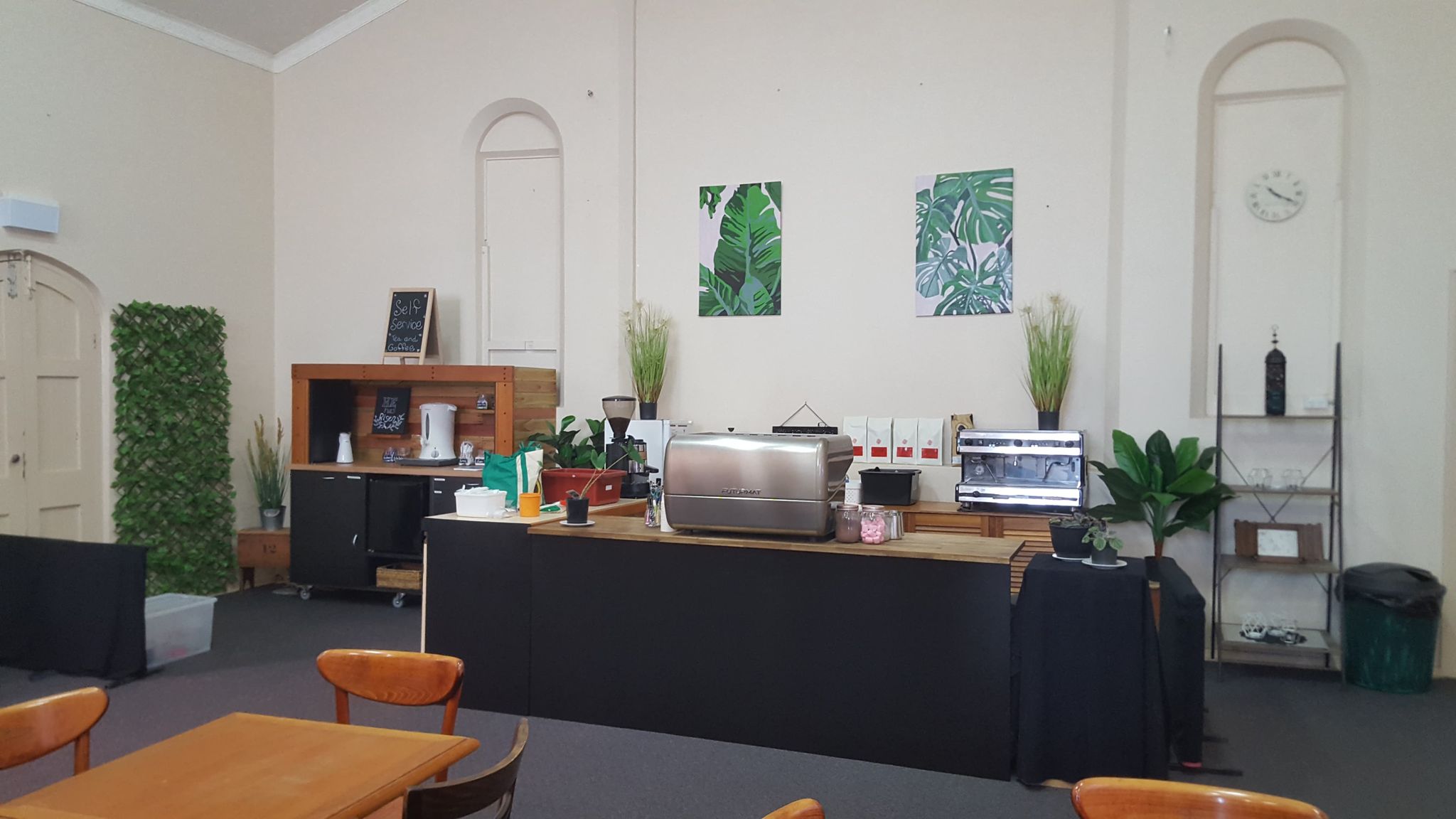 Full Hourly Rate
$27.50
Full access to hall and its equipment
After Hours Rate
Full access to hall and its equipment
NotforProfit Hourly rate
Full access to hall and its equipment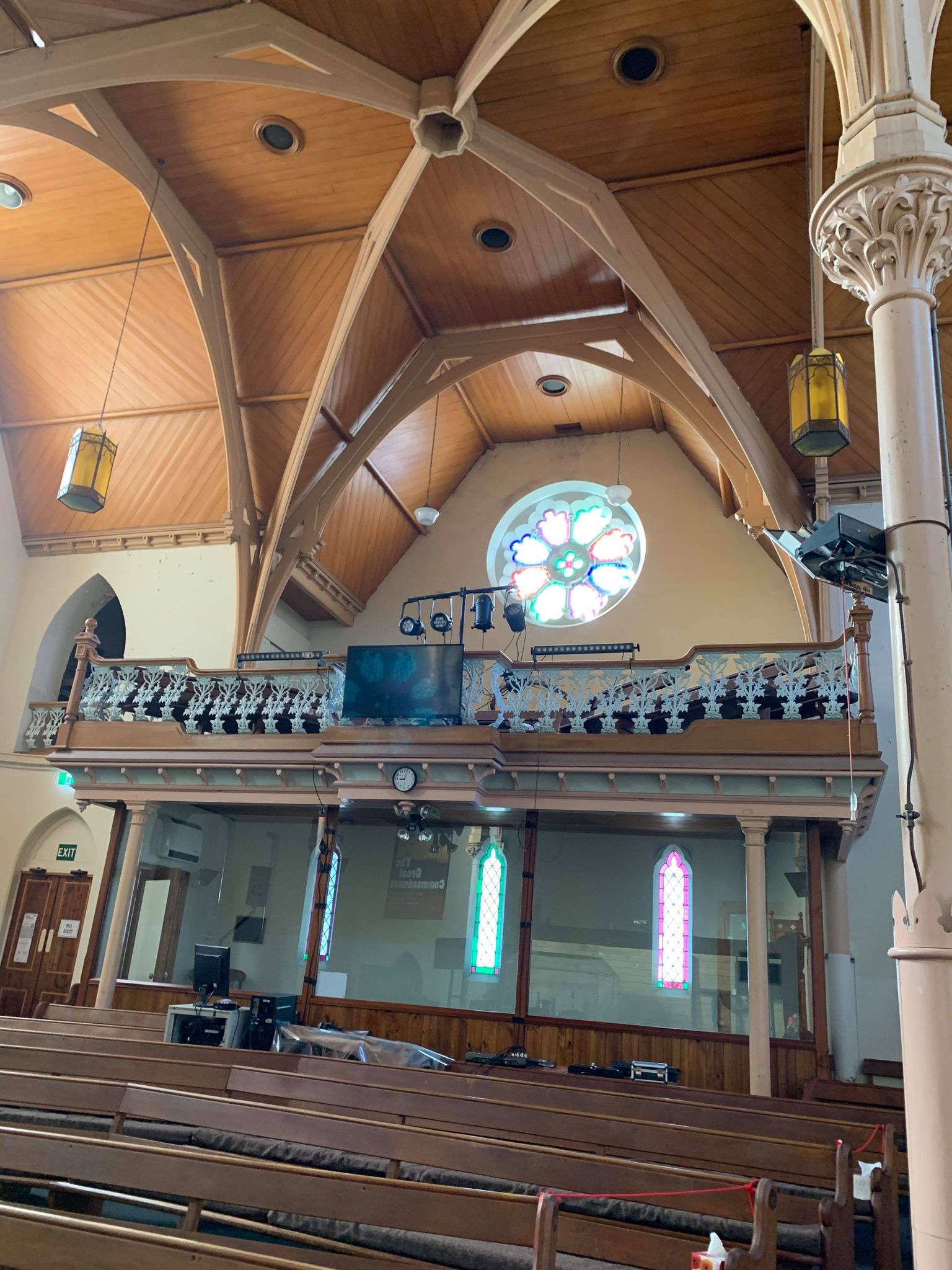 Full access of Auditorium includes:
Stage and seating, includes a glassed parent's room with audio
Welcome desk/foyer and exit foyer
Outdoor heater for greeters available for additional hire
Full access to toilets and back courtyard
Sound Desk, AV & live-streaming POA depending on staff availability. Award rates apply. Speak to one of our friendly office staff to find out more.
AV & Sound / equipment/Operator Hire Pricing
Sound Desk, AV & live streaming is dependent on staff availability.  Rates are based on current award rates. 1-3 persons maybe required for your particular requirements. Please talk to one of our staff who will be able to answer your questions.
Hiring a part of the facility
$200 bond upon signing
A $30 key hire bond is also applicable to give you access to the area during hire times.
Additional charges apply for use of the cafe equipment, mobile tea and coffee cart, and children's equipment.
Complete terms and conditions are in the agreement that will be sent to you for completing and returning.
Concession rates apply to community groups, not-for-profit groups, church members etc.
Full rates apply for functions, businesses, and conferences, regardless of concession eligibility.
The following conditions
APPLICATION FOR USE OF FACILITY
Each application for use must be made on the required Application Form, signed by the Applicant, stating the purpose and hours required and containing the applicant's undertaking to comply with these Conditions of Use.
Where an application is made on behalf of an organisation or body of persons, the Applicant shall state the name of such organisation or body and the authority of the applicant for making such application, together with private and business telephone numbers of the Applicant. The person making the application on behalf of the organisation or body will then be liable to ensure compliance with these Conditions of Use.
REFUSAL OF APPLICATION TO USE AND SUB-LETTING

The Hilltop.Church reserves the right to refuse Applications for Casual and Recurring Use
No portion of the Facility may be sub-let or any booking transferred or assigned without the written prior consent of the Hilltop.Church.

BOOKINGS
Tentative bookings will be held for up to 14 days. A booking will be confirmed only upon receipt of a completed Application Form, evidence of satisfactory insurance and security bond within this period and the issuing by Hilltop.Church of a confirmation letter. If the booking is not so confirmed, Hilltop.Church may cancel the tentative booking without notice.
All regular bookings will be reviewed annually to ensure arrangements reflect the requirements of the User whilst remaining consistent with the vision and goals of Hilltop.Church.
The bond will only be returned to the hirer if:
Everything is returned to its place
Nothing is broken
Facilities are returned to a clean state
A hiring checklist will be completed before and after the booking. If facilities are judged not to have been returned to a clean state, the cost of cleaners will be deducted from the bond before its return.
All damages incurred must be paid for at full cost, including labour (repairs and replacements will be conducted by a Hilltop. Church-appointed representative). The cost will be deducted from the Bond. If the cost exceeds the Bond, the balance must be paid by the hirer, their organisation or group.
The User may cancel a booking. Written notification of cancellation must be received by Hilltop.Church 14 days before the final hire date(s); otherwise, the hire cost will be charged.
Frequently Asked Questions
Is there a bond?
Full payment of the invoice is required in advance of your booking to confirm it. We require the payment of a $300 refundable bond for all bookings. For regular weekly hires, the bond is increased to 4 weeks rent. To ensure the bond is not deducted, you are required to leave the facility clean with no damages. Do not remove any items that belong in the area of hire. For kitchen hire registration with Council is your responsibility.
What happens if I don't finish on time?
If you think you will run overtime or need extra time, you need to contact us to ensure there isn't a booking following you. If there is, you will need to finish up and clean up on time. If there isn't you can continue working and the additional hours will be invoiced separately or deducted from the bond. Please ensure you leave at least 30 minutes for cleaning and also include packing and unpacking time. It is your responsibility to run on time.
Hiring the Kitchen
Your Rights and Responsibilities
It is your responsibility to ensure you have the correct permits. We recommend that you contact your local council's Health Services department to confirm your requirements as you may incur heavy fines for failure to comply with the Food Act.
If you are considering using our kitchen please:
Contact us to confirm availability for your required schedule.

Arrange an inspection to ensure our facility meets your requirements.

Complete an online application rental form including reading and agreeing to the latest

rental policy

.
Once we have received your application, we will email you an invoice for the bond deposit and for any bookings you may wish to confirm.
To use our facility, you need to apply for a temporary or fixed premise food registration. Private use such as food testing or recipe building are generally not required to apply. It is best to contact your local council health services officer to determine if you need to register or not.
Temporary registrations (Streatrader)
All temporary registrations are administered by council through the Streatrader web portal - streatrader.health.vic.gov.au. Registration allows businesses to use approved premises on an irregular or once off basis for example, weekend market stalls or at a festival. This also mean that you must bring everything to the premise and take it all away with you.
If you already have your own Streatrader registration, then log in and lodge a statement of trade for the dates you want to use the kitchen. Council will then confirm with us the dates before approving the statement of trade. A paid deposit and rent will need to be completed for us to do so.
Please note that we DO NOT accept Streatrader applications to use our facility address for their registration. You must have your own Streatrader registration already to use our facilities.
Fixed Premise registrations
If you do not meet the temporary registration criteria then you can apply for a fixed premise registration with Council. A fixed premise registration has a minimum registration period of 12 months and will attract minimum monthly rental conditions applicable up until the date you abolish your registration.
Please contact the relevant council Health Services department for the forms required to apply for a fixed premise registration. To complete your application, you will need to meet with our Health Officer at Hilltop.Kitchen Hire. For us to give permission to do so, we must have received a completed rental application form and the security deposit. The minimum monthly rental starts on the date of your registration approval.
If for some reason your application is rejected, your deposit and any rental paid will be refunded as long as evidence can be provided that your application was rejected.